Credit: Samsung


Samsung's Galaxy S8 is expected to be revealed at the Galaxy UNPACKED 2017 event on 29 March, starting at 11 am (US) EDT.

Check it at http://www.samsung.com/global/galaxy/

There is much speculation about the new Samsung Galaxy S8, but more revealing than most, is this image from an advertisement for an, "Olixar Ultra-Thin Case - 100% Clear". Judging from the name of the case & the image, this is essentially how the phone looks without a case.


Samsung Galaxy S8 in Olixar Ultra-Thin Case - 100% Clear
Credit: Olixar/Samsung/Mobile Fun


It supports two of the most popular rumours about the S8 – no physical home button, & a fingerprint sensor on the back.

More detail at http://www.mobilefun.co.uk/olixar-ultra-thin-samsung-galaxy-s8-case-100-clear-p62870.htm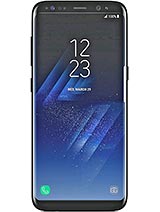 Samsung Galaxy S8
Credit: GSMArena


Screen is rumoured to be 5.8" (6.2" for the S8 Plus). This won't make the phone as big as you might first think. Notice a few things in the image above:


● screen is edge-to-edge – no bezel at the sides


● the top & bottom bezels are small – in part due to the absence of a home button


Taken together, this makes for a smaller phone than a 5.8" screen would suggest. Comparing with the Samsung s7, as quoted by GSMArena:

S7 dimensions 142.4 x 69.6 x 7.9 mm (5.61 x 2.74 x 0.31 in)1
S8 dimensions 140.1 x 72.2 x 7.3 mm (5.52 x 2.84 x 0.29 in)2
This makes the S8 2.3 mm shorter & only 2.6 mm wider than the S7 .

Update 30 March – GSMArena have updated the dimensions of the S8
S8 dimensions 148.9 x 68.1 x 8 mm (5.86 x 2.68 x 0.31 in)2

This makes the S8 6.5 mm taller & 1.5 mm narrower than the S7.
On these numbers, S8 buyers will get a Galaxy Note size screen in a Galaxy S size phone.

More:

C|net – "Samsung Galaxy S8: Everything we know about Samsung's 2017 rebound phone, launching March 29"
https://www.cnet.com/au/products/samsung-galaxy-s8/preview/

GSMArena – "Samsung Galaxy S8"
http://www.gsmarena.com/samsung_galaxy_s8-8161.php

Trusted Reviews – "Samsung Galaxy S8 release date, specs, rumours, & price explained"
http://www.trustedreviews.com/news/samsung-galaxy-s8-release-date-specs-rumours-price-uk

Forbes – "Galaxy S8 Release Date Revealed By Samsung?" https://www.forbes.com/sites/gordonkelly/2017/02/23/galaxy-s8-release-date-and-price/#12be23c94b7a
__________

1 GSMArena: "Samsung Galaxy S7", http://www.gsmarena.com/samsung_galaxy_s7-7821.php

2 GSMArena: : "Samsung Galaxy S8", http://www.gsmarena.com/samsung_galaxy_s8-8161.php
/ Trusted Reviews Samsung Galaxy S8 release date specifications specs rumours price explained Samsung Galaxy S8 Olixar Ultra-Thin Case - 100% Clear Samsung's Galaxy S8 flagship is coming on March 29 Galaxy S8 reveal date revealed by Samsung apologizing to fans yet again for its disastrous drama recalling 3 million fire explosion Galaxy Note 7 phones teasing the Galaxy S8 design and announcement date safe buyable Galaxy S8 South Korean company giant mobile show Samsung characteristically launches its Galaxy S phones Samsung's profits are soaring chips S7 and S7 Edge phone sales $5 billion lost on the Note 7 impending lawsuits Samsung truly great phone most impressive phones Samsung ever made Galaxy S8 can Samsung win back buyers' trust Galaxy S8 rumors leaks rumour speculation Samsung official Galaxy S8 announcement Galaxy S8 could start selling mid-April Samsung will reveal the Galaxy S8 March 29 in New York City Samsung's revised eight-point battery testing procedure more space inside for the battery Galaxy S8 Plus Galaxy S8 + Galaxy S8 Edge curved screen Galaxy S8 Samsung's flagship phone dual-curved screens scaled the production process curved screens two phones Galaxy S8 and Galaxy S8 Plus Galaxy S8 could still come in two sizes Galaxy S8 Edge Galaxy S8 Plus sizes hardware specs S8 /