Minimalist wallets have become enormously popular. The Identity minimalist wallet was recently reported on these pages.

Hitchhiker's Guide 2 Tech – "Identity – unique minimalist wallet"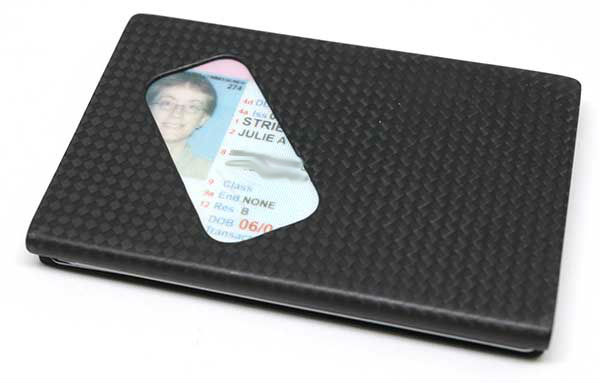 Identity card wallet
Credit: The Gadgeteer


http://hhg2tech.blogspot.com/2017/01/identity-unique-minimalist-wallet.html

Just now, a search on Kickstarter for "minimalist wallet" returned 314 matches.

Many examples from conventional manufacturers too, such as:


Bellroy Micro Sleeve
Credit: Bellroy


https://bellroy.com/products/micro-sleeve-wallet/caramel

Most minimalist wallet of all is no wallet! Some phone cases include provision for card(s) &/or cash, such as


Otterbox Strada case for Samsung Galaxy S7 with room for 1 card or cash
Credit: Otterbox


iDownload Blog – "Some great wallet cases for the iPhone 7 & iPhone 7 Plus"
http://www.idownloadblog.com/2016/09/26/wallet-cases-for-iphone-7/

If you have a case you are otherwise satisfied with, or prefer your phone naked, there are glue on pockets such as this one from Elago that can accomodate 2 cards. It is available in black, Italian Rose, & Jean Indigo.


Elago Card Pocket adds space for 2 cards to many phones & cases
Credit: Pinterest


Elago – "Card Pocket"
http://www.elagostore.com/elago-style/epocket-jin.html
/ Identity Card wallet review EDC quality item simple to use minimal minimalist how much space they take up never use cash anymore. When I buy something easier swipe credit card unzip wallet pull out the required cash receive change back wallets tend to be bulky accumulate extra stuff receipts other paper Identity Card wallet minimal wallet Identity Card wallet ultra small and ultra light weight light-weight lightweight minimalist wallet aerospace-grade aerospace grade carbon fiber unique folded one-piece design separate your cards into two piles wallet hold four cards on one side of the wallet and four cards on the other side wallet hold four cards on each side footprint almost the same size regular credit card smallest wallet I've found so far sides are smooth to the touch no rough edges Identity Card wallet offers wallet with or without a logo badge on the front crowdfunding campaign wallet logo badge offering it without the badge badgeless version edges of the logo cards that I carry in the Identity Card wallet several regular plastic credit cards along few thinner paper cards business cards held securely in place by the sides of the wallet cards inserted into the wallet still very thin diagonal cutouts on the front and back easy to slide out the top card with your thumb Identity Card wallet fits very easily into my pocket so thin that I barely even notice that it's there zero bad things to say about the Identity Card wallet can't use it to carry cash perfect wallet for minimalists wallet cases iPhone 7 iPhone 7 Plus Card Pocket Samsung Galaxy S7 Otterbox Bellroy phone case minimalist wallet crowd funding Italian Rose Jean Indigo Elago accomodate cards black Italian Rose Jean Indigo /